Melkus Mechatronic goes ASIA
From 6 April until 8 April, Melkus Mechatronic GmbH, the Salzburg-based high-tech company was the only Austrian DTS producer 2022. represented at the
>Smart Factory & Automation World 2022< trade fair – at Hall C, booth 432.
Here, along with Servo Star, its distributor for Korea and Asia, it presented its newest in-house developments in the area of drive and guidance technology, as well as the newly-updated "Melkus Fleet" with the modified Melkus G130 Gen. 2.0.
There, the representative of the Austrian Economic Chamber (WKO), Mr. Wolfgang Köstinger, Commercial Counsellor, Austrian Embassy – Commercial Section Korea, along with his colleague, Mr. Hak-Sung Kim, Senior Marketing Office, Austrian Embassy, took the opportunity to visit the booth at the trade fair personally, where they wished good luck and gave their best wishes to the members of Melkus Mechatronic's management who were there, Patryk Hoffman (Managing Director) and Mr. Johann Graf (Plant Manager).
Thanks to the extremely professional showcasing of the vehicles, as well as the impressive presentation of the show as a whole, the booth was a magnet for all those who showed an interest in automation and Logistics 4.0.
Due to its continuous expansion and good order situation, Melkus Mechatronic is looking for professionals in its production and service divisions. If you are interested in becoming part of the Melkus Mechatronic team, please contact us at: info@melkus-mechatronic.com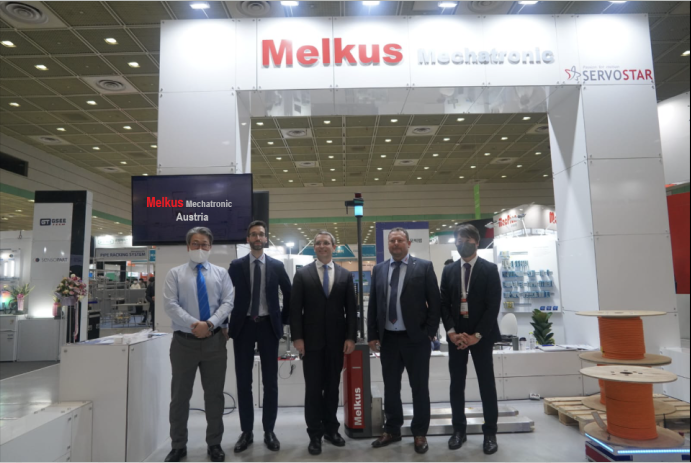 From left to right: David Chun, Patryk Hoffman, Wolfgang Köstinger, Johann Graf, Hak-Sung Kim